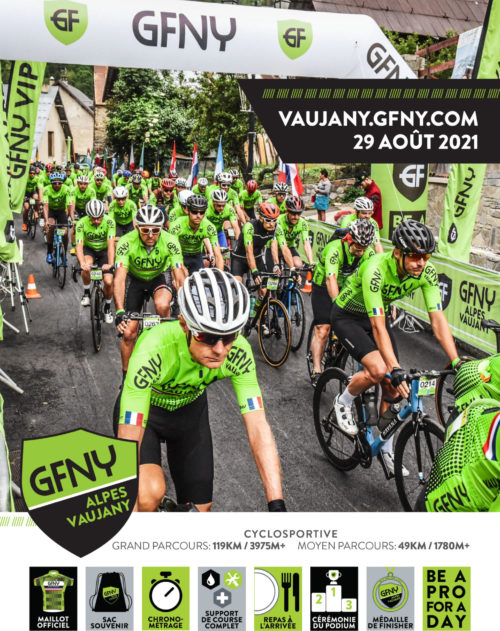 Sunday 29th August 2021: The second edition of the GFNY Alpes Vaujany cyclosportive race
Vaujany is proud and pleased to welcome for its second edition the "GFNY Alpes Vaujany". The mythical New York bike race, which has spread internationally with various events around the world, is now present in Vaujany.
With 4,000 metres of ascent over 118 km, the long GFNY Alpes Vaujany course is a test of legs and will.
The race starts with a neutralised descent into the mountain town of Vaujany. After a quick descent, the first challenge of the day begins: the 25 km ascent of the Col de la Croix de Fer, first through the forest, then along the Lac de Grand'Maison, and finally to its breathtaking 2067 metre summit. After descending the pass in the direction of Saint Jean de Maurienne you will find a part of the valley which will allow you to breathe and recover before attacking your second challenge of this event and not the least, the Glandon pass with its 21.3 kms long and 6.9% average slope, its highest point at 1924 meters will offer you breathtaking views. Then comes the long descent to the Croix de Fer pass before tackling your last challenge of the day: the short but difficult climb back up to Vaujany and finally celebrating your arrival with the pride of having crossed two of the most beautiful and famous Alpine passes.
Two types of course are offered:
The long course: Only those who finish the 118 km course are eligible for the category classification, prize giving and podium.
The medium course: not classified
Come and take part in this mythical race or simply encourage the runners and live the event with us