La Fare spa
The resort's Sports & Leisure Centre offers a variety of activities for the whole family all year round!
The spa at La Fare, a gentle setting, will delight you.
The spa is composed of two jacuzzis, a sauna and a hammam.
Come and enjoy their relaxing and soothing heat, and then take advantage of our herbal tea room (free access).
Treatments are available on reservation at the reception.
We advise you to arrive 15 minutes before the start of your treatment.
If you are late, we may not be able to reschedule your session.
Access for adults only.
Address : 108 route des Combes – 38114 Vaujany
Information: 04 76 11 11 90 – piscine@mairie-de-vaujany.fr
The SPA at V**** by pure altitude
The V**** Spa, sublime and mineral, is signed Pure Altitude with all the expertise we know from their experience.
For 20 years now, Pure Altitude has been developing care rituals based on mountain plants.
Embark on a true sensory journey, in an elegant and refined setting,
combining the warmth of old wood with the authenticity of stone.
Relax in the indoor swimming pool, enjoy the sauna, the hammam or the Nordic bath located on the roof, outside.
– The hotel welcomes guests from outside the hotel for massages and Pure Altitude treatments at the Spa du V by appointment.
– Access to the swimming pool, the Sauna and the Hammam is reserved for hotel guests.
Pure Altitude treatment menu on request.
Address : 469 place du Rissiou – 38114 Vaujany
Information : 04 76 80 71 00 – spaduv@vdevaujany.fr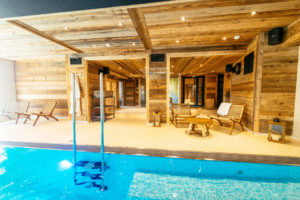 SPA de La Perle By Pure Altitude
Push open the doors of the spa at Chalet La Perle de l'Oisans****.
You will plunge into a world where beauty and well-being are signed Pure Altitude.
Care rituals that combine gentle gestures with the effectiveness of active ingredients.
The Spa at La Perle is made entirely of old wood from our mountains.
It offers a sauna, a hammam lined with pure Sicis mosaic, an herbal tea room and a Pure Altitude treatment cabin for a real invitation to deep relaxation.
Free access for clients of the Chalets du V****,
Open to external clients: 25€ / hour per person,
Pure Altitude treatment card on request.
Address : Chalet la Perle de l'Oisans **** 15 rue du Caroux – 38114 Vaujany
Information : 06 59 90 39 38 – spa.laperle@vdevaujany.fr