Vaujany, so much more than a resort
A family resort in Isère
Perched at an altitude of 1,250 m facing the superb Massif des Grandes Rousses, Vaujany has all the charm and prestige of an authentic mountain village.
Combining tradition with modernity, Vaujany offers holidaymakers top skiing, skating and hiking facilities in the heart of magnificent landscapes, in a charming and unspoilt natural setting. Vaujany has managed to preserve its old-world charm while offering state-of-the-art facilities. Stroll through its narrow streets and discover the fountain, a farm or its authentic bell tower.
A potted history of Vaujany
Vaujany is one of the twenty municipalities that form the canton of Oisans in the north of the department of Isère, near the border with Savoie.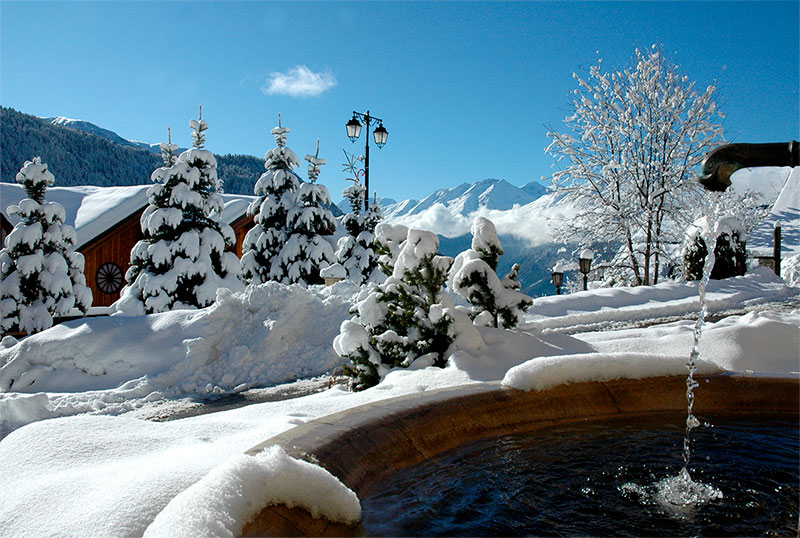 Its name is derived from the Latin "Via-janus", signifying way through, referring to the fact it overlooks Savoie (Sabaudia). Our history is intertwined with that of the Province of Dauphiné, as its last stronghold against the Duchy of Savoy. Until around twenty years ago, the majority of the residents of this vast high-mountain municipality (7,154 hectares) lived off mountain and livestock farming. The difficulty of making a living from mountain farming led to rural depopulation, which was accelerated by the major developments at the Grand'Maison Dam. But Vaujany has managed to reinvent itself as a tourist destination, without losing its authentic mountain village feel.
It is one of those 100% charming resorts, jealously kept secret by those who know it well. A village resort like few others in the big domains. Authentic in winter, it is even more so in summer with its strong traditions, the typical architecture of its alpine village and by its environment which seems to be set to the rhythm of nature, only nature… and perhaps to the respectful rhythm of those who love calm and wide open spaces. As you drive through a succession of small traditional hamlets, what you discover on arrival already takes on its full dimension: that of a postcard nestled on the slopes of the Rissiou, at an altitude of 1250 metres, where the mountain pastures are the most beautiful and the richest in terms of biodiversity. As if not to disturb the grandiose landscape, it seems to have slipped discreetly onto a hillside facing the Grandes Rousses massif and the Cascade de la Fare. Welcome to one of the last bastions of an authentic and well thought-out mountain. A confidential destination, cultivating a range of original, committed, tailor-made activities, with the most personalised welcome possible.
Vaujany Station-village : 1250m
La Villette : 1350m
Montfrais : 1700m
Localisation : Grandes Rousses massif – Oisans – Isère
Labels : Famille + ; Station verte ; Station classée de Tourisme; Qualité Tourisme; Station Ami.
Activities: Winter and summer mountain resort.
Population: 350 permanent residents – 3500 beds.