Weights room and fitness activities
The Gym welcomes you all year round.
Equipment is available for all levels, ensuring you will be in perfect fitness before, during and after your holiday!
Enjoy a cardio workout on the treadmills, rowing machines, bikes and elliptical trainers.
Or strengthen your muscles using our equipment for back exercises, the machine zone for overhead and bench presses, and our zone for lower body workouts.
Improve your fitness and physique!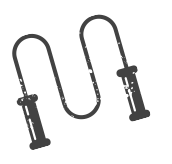 TECHNICAL CLOSURE FROM 9 TO 24/05/2022 INCLUSIVE
OPENING HOURS FROM 25/05 TO 01/07/2022 INCLUSIVE:
Monday and Tuesday: closed
Thursday and Friday: from 14:00 to 19:30
Wednesday/Saturday and Sunday: from 9h30 to 19h30
OPENING HOURS FROM 02/07 TO 28/08/2022 INCLUSIVE:
Monday/Tuesday/Thursday/Friday: from 9h30 to 19h30
Wednesday: from 9h30 to 21h00
Saturday and Sunday: from 9h30 to 19h30
Sports hall – Indoor climbing wall
A modern complex that can be booked with our team at the Sports and Leisure Centre.
Practice team or individual sports. Accessible on your own by reservation
Play indoors!
Available for hire to all, even a small group of friends, this room will allow you to play badminton, basketball, volleyball, handball, uni-hockey…
Free loan of equipment.
For climbing: harness, belaying equipment and ropes on site included in the price.
The multi-purpose hall is open for hire for events, various shows, theatre.
TECHNICAL CLOSURE FROM 9 TO 24/05/2022 INCLUSIVE
OPENING HOURS FROM 25/05 TO 01/07/2022 INCLUSIVE:
Monday/Tuesday: closed
Thursday and Friday: from 14:00 to 19:30
Wednesday/Saturday and Sunday: from 9h30 to 19h30
OPENING HOURS FROM 02/07 TO 28/08/2022 INCLUSIVE:
Monday/Tuesday/Thursday/Friday: from 9h30 to 19h30
Wednesday: from 9h30 to 21h00
Saturday and Sunday: from 9h30 to 19h30