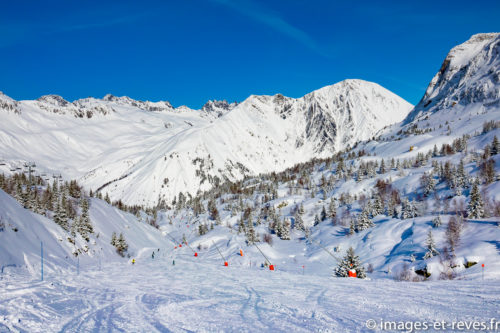 Weekend of 3 and 4 December 2022
Continuous from 10 December to 21 April 2023
Come and enjoy the area and the pure mountain air with the help of the lifts that will take you up to the summits.
More information on the lifts:
www.oz-vaujany.com/fr/
C'est quoi le domaine de Vaujany ?
Notre station-village de Vaujany, est située au pied du massif des Grandes Rousses, en liaison directe avec le domaine skiable de l'Alpe d'Huez et ses 250 km de pistes, est exceptionnelle.
Notre village étagé offre un panorama ouvert sur la vallée et ses sommets environnants. Vaujany privilégie une architecture alpine traditionnelle permettant au village de conserver sa physionomie millénaire.
Côté domaine skiable, le paradoxe est assumé : la veine confidentielle et intimiste de Vaujany contraste avec les formidables horizons qu'elle propose côté glisse. L'accès rapide à l'un des meilleurs domaines skiables au monde, l'Alpe d'Huez Grand Domaine, qui grimpe à près de 3 350 m d'altitude, est un atout majeur. 116 pistes pour 250 km de descentes, quatre itinéraires désormais mythiques de 2 200 m de dénivelés d'une seule traite, dont celui qui s'achève par la très exigeante piste de La Fare au pied de Vaujany, sans oublier les 16 km de la Sarenne la plus longue piste d'Europe. En un simple trajet de téléphérique, on s'offre une neige abondante de qualité et de superbes paysages : glaciers, sous-bois d'épicéas, étendues de poudreuse, sommets à perte de vue et 300 jours de soleil par an.